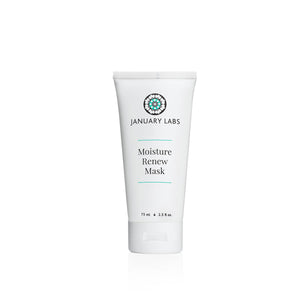 DESCRIPTION
January Labs Moisture Renew Mask
January Labs Moisture Renew Mask is a rich, leave-on hydration moisturizer that can be used during the day or night to seal in moisture and reveal healthy, glowing skin. This product is best for when your skin is dull and dehydrated, the Moisture Renew Mask plumps and hydrates the skin for a fresh, dewy glow.


Active Ingredient Benefits:
Squalane: An olive oil-based ingredient that hydrates the skin while keeping it soft and supple.


Avocado Oil: A rich ingredient containing beneficial fatty acid that nurtures and protects the skin from moisture loss and dehydration, re-balancing dryness and comforting delicate skin.


Hyaluronic Acid: Strengthens elasticity, hydrates, and repairs and plumps the skin.


Linoleic Acid: It acts as an anti-inflammatory, acne reducer and moisture retainer.


Cucumber Fruit Extract: Nutrient-packed skin care benefits known for its astringent, hydrating and anti-inflammatory properties.


Green Tea Leaf Extract: A natural antioxidant that soothes and nurtures overworked skin.


Vitamin E: Nurtures, hydrates and provides antioxidant protection against free radicals.

How To Use: Apply a generous layer onto clean skin and leave on. Massage excess product into skin after 10 minutes. Can be used on skin day and night to increase hydration, improve texture and strengthen the skin's protective barrier.
About the Brand
January Labs is committed to developing powerful formulas that give your skin a healthy glow by continuously building and protecting your skin barrier – the primary offense and defense to beautiful skin. We believe that keeping your skin in top condition, stimulated for cell turnover and in the proper pH balance is the key to a healthy, radiant complexion. Our products are free from sulfates, parabens, fragrances and other harmful additives.

All January Labs products are free from: sulfates, parabéns, fragrances and other harmful additives.
Ingredients
Water, Squalane, Avocado Oil, Sunflower Seed Oil, Aloe Leaf Juice, Caprylic/Capric Triglyceride Glycerin, Lactic Acid, Linoleic Acid, Apricot Seed, Corn Sugar, Sulfonic Acid, Saccharide Isomerate, Shea Butter, Vitamin E, Sage Leaf Extract, Chamomile Extract, Ethylhexylglycerin, Citric Acid, Sodium Citrate, Green Tea Leaf Extract, Cucumber Fruit Extract.